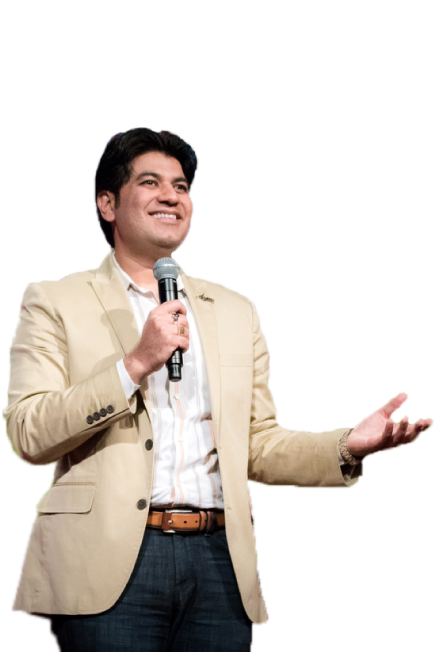 Everything rises and falls on leadership.
Leaders need a readiness to adapt the change and boost team performance by sharpening their development skills and creating more leaders. Nauman's leadership trainings empower you to lead from the heart and spearhead your team to skyrocketing success.
Take the Free Seminar on transformation
You may have the edge right now, but do you have what it takes to stay on top of your game and even go beyond? What will your legacy be?
Join Nauman Khan Azeemi, as he will lead you through a step by step process of transformational leadership training to ace your life; both personally and professionally. You will receive the knowledge, training, years of experience and a lifelong support from Nauman Khan Azeemi's Leadership training team from USA and Pakistan. Nauman Khan Azeemi is certified to hold leadership training programs by the world's top most leadership and success coaches. Leadership is a skill like any other that can be taught, learned and perfected with time. He has designed his leadership training courses and classes to empower you with the commitment, clear vision, insight and accountability you need to achieve the continuous and inveterate success you demand for yourself and your business.
Our resources available to you are designed to give you leverage and make you stand out among the crowd, as you become the leader that you have always wanted to be.
Start your journey to achieve the next level in your life
Make your business a tale of triumph
Understand and practice the psychology of Success
Create more passion in your relationships
Achieve the mind and body you deserve
Your destiny begins to change when you make the decision to
transform your life —
Nauman Khan Azeemi
Our trainees are not only comprised of, teachers, speakers and professionals or, those looking to break into these influential industries, but people who simply want to make an impact at their job, or within their organization, or even just within their own family … to become better leaders in whatever they do! These Leadership training programs can include a one-day training workshops intensively focusing on various success principles and universal leadership laws to a week-long leadership training program to equip you with every management and leadership a success strategy you'll need.