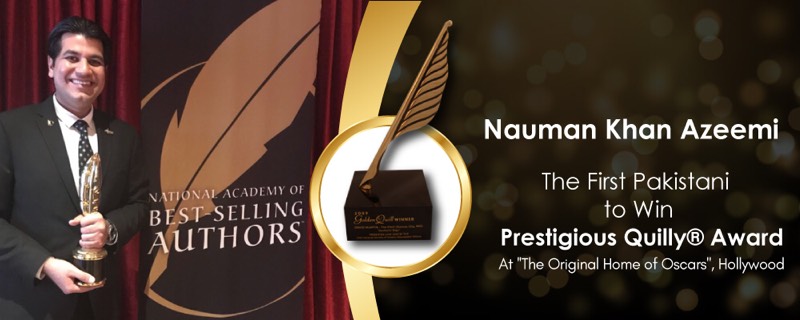 Press Release : Nauman Khan Azeemi becomes the first Pakistani to win
The Prestigious Quilly Award
Entrepreneur Nauman Khan Azeemi, has teamed up with other leading entrepreneurs and professionals, including best-selling author Jack Canfield, to release the new book, "Mastering the Art of Success"
Quilly® Award 2017
Nauman Khan Azeemi, a Chicago based Pakistani businessman becomes the first Pakistani to be honored with Quilly® Award by the US National Academy of Best-Selling Authors®.
Nauman Khan Azeemi is an Award winning Best Selling Author, Entrepreneur, Best Selling Author, Certified Success Coach and Leadership Trainer. He has made his mark in the history as the first Pakistani-American to receive the prestigious Quilly® Award, bestowed by The National Academy of Best-Selling Authors®. Nauman Khan Azeemi was presented this award in recognition to his contribution in "Mastering the Art of Success" a best-selling book that he co-authored with Jack Canfield along with other entrepreneurs and professionals. The book shares secrets of achieving mastery in business and life, by the world's leading entrepreneurs and professionals. Nauman Khan Azeemi has the honor of being the only Pakistani-American to contribute his insights and business knowledge to this book.
Nauman received the Quilly® award on September 29th with the highest acknowledgment and spoke at the thought leaders' summit. The National Academy of Best-Selling Authors® awards the Quilly® to honor the literary contributions in the field of education, enlightenment and business advancements. It is the biggest event of the year for best-selling authors and thought leaders. The goal of presenting this award is to build a legacy that is the equivalent of the Oscars, the Emmys® or even the Grammys. Quilly® Award is a 15-inch statue that has been sculpted and crafted by the same people who make the Oscars and the Emmy® Awards. They are truly one-of-a-kind awards that you cannot get anywhere else.
About Nauman Khan Azeemi
Nauman Khan Azeemi is an Entrepreneur and IT venture capitalist who has established his business in 3 continents – Europe, North America and south Asia. Nauman is working to empower the youth of Pakistan with entrepreneurial dreams and is launching his NGO that will work in the domain of success coaching, personal growth and Youth Leadership. Nauman Khan Azeemi is a self-made Entrepreneur who rose to success from a humble background because of his unshakable conviction in his dreams. Currently he is the President of Burkhiya Group of Companies, holding 10 companies under its belt.
To Order your copy today http://amzn.to/2ua95ha
For More information visit www.CelebrityPressPublishing.com